Introduction
Tabs in RadVC toolbox helps users to organize RAD C++ / ActiveX controls in various groups. By default, RadVC creates a tab called "Standard". Users can create additional tabs with the names of their choice and add RAD C++ / ActiveX controls in them. In addition to helping users to organize the controls, tabs also allow users to add more controls by creating extra room in RadVC toolbox. A typical RadVC toolbox with "Tabs" looks like the following.

Adding a New Tab
To add a new tab, you need to invoke "New Tab" dialog by clicking right mouse button on anywhere on the RadVC toolbox and selecting "Add tab" or "Add" from the context menu, as shown below.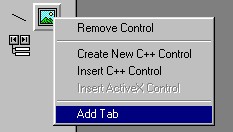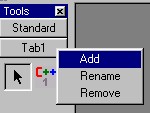 Once the new tab appears, please type in the name of the new tab and click "OK" button. A new tab will be added to the RadVC toolbox.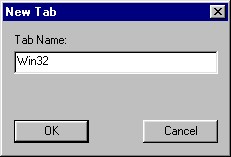 How to Rename a Tab
To rename a tab, click your right mouse button on it and select the menu item called "Rename" from the context menu as shown below.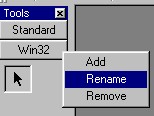 This will display the "Rename Tab.." as shown below. Now enter the new name for the tab in the edit box called "New Name" and then click "OK". The new name will now appear on the tab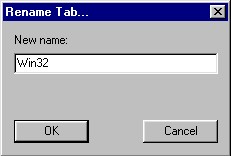 How to Remove a Tab
Follow the same procedure as "renaming" the tab, but select "Remove" menu item instead of "Rename".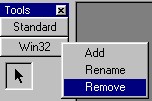 If the tab to be removed has any tool buttons, RadVC will warn the user to remove those buttons first: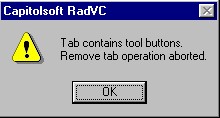 How to Move a Control from one Tab to another
To move a tool button from one tab to another, select the menu item "Move" from the context menu on the tool button, as shown below.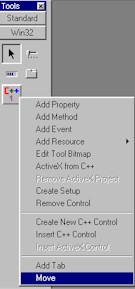 This will display a dialog box asking the user to select a tab where the selected tool button to be moved (figure below).